About Us
The Office of Sustainability is housed in Facilities Services, part of the Finance & Administration Division. It was formed by the creation of a full-time sustainability manager position in 2007. Since that time, the OS team has grown to include a full-time sustainability outreach coordinator and a part-time sustainability intern.
Functional Areas
Sustainability is often defined as meeting today's needs without compromising the ability of future generations to meet their needs (Brundtland Commission 1987). The Office of Sustainability supports environmental sustainability initiatives that
Reduce air, water, and land pollution from campus operations;
Reduce greenhouse gas emissions and the use of nonrenewable resources;
Promote recycling and conservation practices among the UT community;
Protect and enhance the beauty of campus grounds and facilities; and
Demonstrate the university's commitment to environmental stewardship.
Current Staff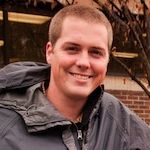 Preston Jacobsen has a B.S. in Environmental Sciences from Western Carolina University with a focus in Hydrology and Sustainability. Preston has worked in Sustainability since 2010 and led Haywood Community College in WNC to become the greenest Community College in the NC System (58 overall), implementing various operational practices to reduce waste, produce alternative energy and create a living laboratory experience for students and the community. Background work includes teaching Biodiesel production, local community engagement and bringing cost savings to academic settings, with a focus on environmental protection.
Sustainability Outreach Coordinator and CAC AmeriCorps member, Elly Boehmer, has a B.A. in Environmental Studies with a concentration in Policy and Development from the University of Vermont. During her time in Vermont, she worked for the state's largest environmental group, engaging citizens in environmental campaigns. Elly incorporates this experience in her work at UT by actively educating the UT community about sustainability as well as promoting sustainable behaviors and initiatives on campus.
Sustainability Intern Kate Barnes is a senior studying Sustainability and Environmental Studies at UT.  Kate is a returning Resident Assistant in Morrill Hall.  From Soddy Daisy, Tennessee, Kate's passion for sustainability and the environment stemmed from a love of the outdoors at an early age.  Kate is graduating in May and has high hopes of finding a job where she can continue her sustainability efforts.
Sustainability Intern Logan Terheggen is a sophomore studying in Chemical Engineering who hails from the small town of Cookeville, Tennessee.  He is a current member of SPEAK and enjoys hiking in his free time. As a person who loves not only UT, but also the environment, Logan wishes to affect change at UT and make the campus a more sustainable environment for the future.