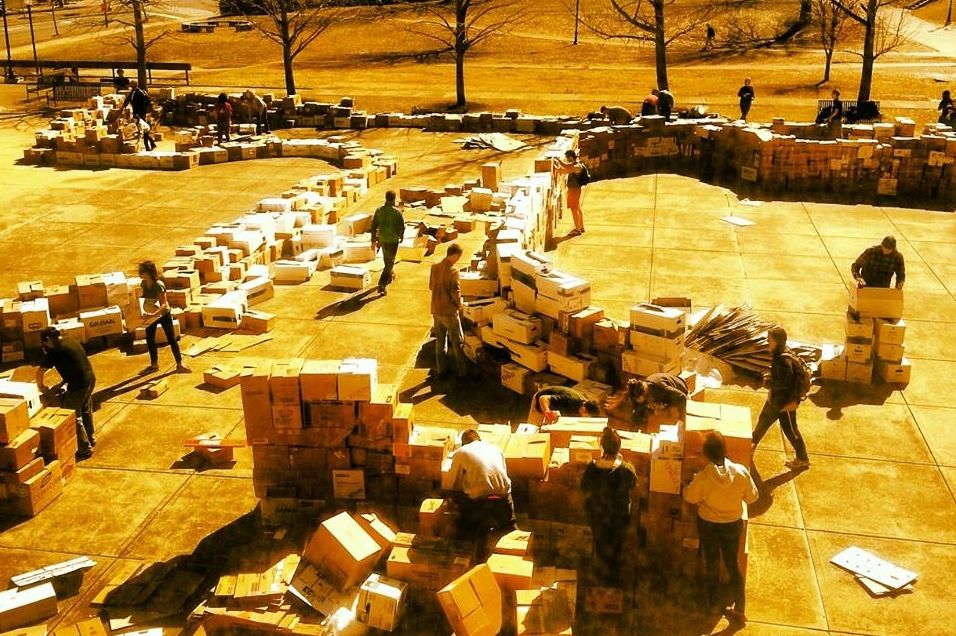 UT Recycling  |  Submission Video
Record Setters | World's Largest Cardboard Fort
Daily Beacon  |   Record-Breaking Box Fort…
Daily Beacon  |  UT Box Fort Breaks Record…
TN Today  |  Students to Raise Giant Box Fort…
Knoxville News Sentinel (video)  |  UT Students Build Box Fort to Showcase Sustainability
Over the years,

UT

has made great progress at reducing the environmental impact of campus operations. In fact, the University has been widely

recognized

as a leader in resource conservation and environmental stewardship.
Environmental responsibility is a key component of the Knoxville campus long-range master plan and  Vol Vision 2015, as well as the UT system mission statement (shown in part on the right sidebar). Sustainability efforts at UT have accelerated in recent years with several environmental initiatives and projects coming out of the Office of Sustainability and  UT Recycling such as energy conservation campaigns, Game Day Recycling, and GHG inventories.
"Among universities, UT is a leader in sustainability issues.  We're one of the first large universities in the Southeast to offer a sustainability major, and we are recognized nationally for the student-initiated campus environmental fee, which funds many of our sustainability efforts.  Our big ideas are helping transform our campus- and our community- into a greener, better place."
 - Chancellor Jimmy Cheek